Air bubbles = fluffy goodness!
This morning I woke up determined to start gathering another stockpile of recipes to use during my baking adventures, but first I wanted to measure out a Pancake recipe. It's much easier to replicate any recipe with weights, but with gluten free it seems to be particularly important.
This recipe is filling and the pancakes are fluffy. They are flavorful without tasting too "whole grain." I know a recipe is good if Lance gets seconds. If he goes back a third time, it's one I can prepare for non-gluten free friends.
Pancakes
8.5 oz Bob's Redmill All Purpose Flour
1.5 oz Teff Flour
1.5 oz Potato Starch
1 tsp baking powder*
1.5 tsp baking soda
1 tsp cinnamon
3 TB ground chia seeds
1/2 tsp salt
1.5 oz melted coconut oil
1 tsp apple cider vinegar
1.5 oz Agave
Mix all of the dry ingredients together thoroughly, including the ground chia seeds. Add in the liquids after your frying pan is preheated and mix thoroughly. Put a little coconut oil in the pan (easiest way is to put a little on a paper towel and rub the entire surface to coat evenly). Flatten the batter out a bit with the bottom of a ladle or a spatula. The chia seeds and teff makes the batter sick together very well. Once the batter starts to bubble, it's time to flip. The pancakes really puff up, so I poke a couple holes in the pancake after I flip them.
A few variations:
Add 1/2 cup of Enjoy Life vegan chocolate chips
OR
Add 1/2 cup blueberries, raspberries, blackberries, or a combination of all 3
OR
Add in slices of banana
OR
Use the pancakes as bread for a peanut butter and jelly sandwich
*Baking powder often contains gluten or corn. Make sure to research your brand. I use Hain Baking Powder which has potato starch instead of corn starch.
Annie is helping me type this out...I'm surprised she hasn't attacked my cup of raspberry tea with vanilla hemp milk. I better wrap this up because we are busy getting the house ready today. My family is coming over this evening and I get to have a little helper in my kitchen! Baby "O" is going to help me with my gluten free cookie recipes. He has a lot of allergies, but he can eat the food I make and because it's vegan, it's not dangerous if starts to gnaw on some before I can get them in the oven.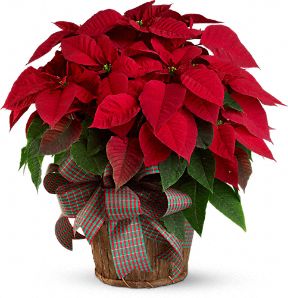 Just a quick note about Poinsettias. I found it quite interesting to read that they are not nearly toxic as rumored. If animals or people eat the plant, especially the sap, they will become nauseated and have gastrointestinal distress, but it's considered more of an irritant than a toxin. According to Snopes.com, the plant got a bad wrap when it was rumored a popular politician's young child died after consuming the plant. The rumor had spread too far to be contained before the medical examiner's office had the chance to contradict the statement.